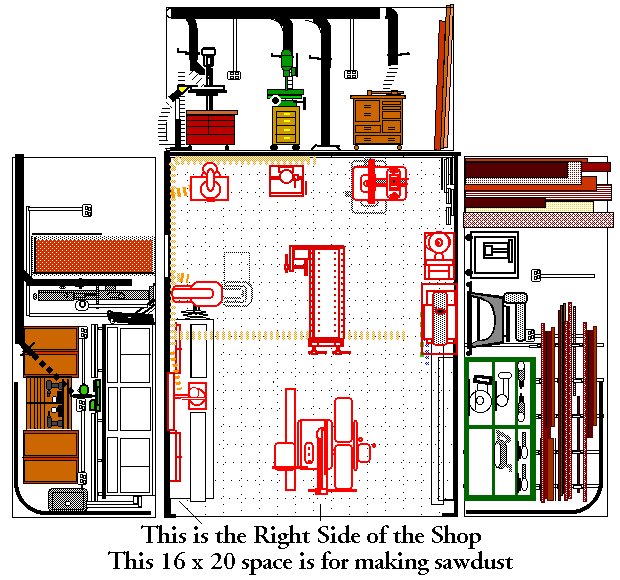 Click on any of the RED objects to see more about it
Note: The right side of the Right Shop has been redone due to the addition of some new stuff - namely a JET VS mini/midi lathe and all the stuff that goes with a lathe - of any size. As is usually the case, that one change required a LOT of other changes. The wood standing in the right rear corner had to be moved - somewhere. THAT meant getting some heavy duty shelving for the entire right wall. THAT meant moving the stuff in FRONT of that wall out of the way. THAT lead to the Green Shelves going Bye-Bye and the drum sander and Robland X31 Accessories Cart moving down towards the garage door.

Now if you have a lathe you know that you need to sharpen your tools often. THAT meant moving the Sharpening Station Cabinet from the Left Shop to the Right Shop's right wall - near the lathe (DUH!). Since lathes generate more debris than any other woodworking machine THAT meant modifying the dust collection system to move the floor sweep and a line to the lathe, which meant changing the dust collection connection to the router table . . . It was the old In Order To Do Anything You Have To Do Everything Else - First - aka - The Shop Shuffle.
Still haven't found a permanent home for the Rigid Oscillating Spindle/Belt Sander or the cordless impact driver and battery charger and haven't found a parking space for the Festool "Dust Extraction Unit" - with "Systainers" stacked on it just to make things more difficult.