Product Review: Mini-Monster Hollowing System by Superior Design & Machine
By Kent Mosley
A few months ago my good friend Charlie purchased the mini-monster hollowing system and brought it to a sawdust session to show it off. Its an articulated arm system with laser, designed for small lathes with 10-12 inch swings. Charlie was busy with other projects, and graciously loaned the mini-monster (MM) to me to try it out. Oh boy, a new toy.
The MM comes with both a 5/8 and a 3/4 inch boring bar, both of which will accept the variety of cutting tips that are included. Both a straight and angled tips accept 1/4 square hss cutters. There is also a small round carbide scraper tool, and a 3/16 cutter that will rotate a full 360 degrees for undercutting. The first picture below shows all the parts that are included. The second image shows the MM set up and ready to go. The complete system sells for about $350.
One of the best features of the MM is its ease of setup and storage. The whole unit can be hung on the wall fully assembled. To use, simply remove your tailstock, lock the MM in its place, and adjust the toolrest and you're ready to hollow. All adjustments of cutters and laser can be accomplished with a single allen wrench, and a T-handled wrench is included.
In use, the MM is a dream. The articulated arm is smooth and solid. Once mounted on the lathe, no further movement or adjustment is required, except for changing cutting tips and aligning the laser. There was a small amount of play in the articulated arm, but tightening of the nylon centered lock nuts eliminated that. Using the MM was very straight forward and intuitive. The tool has a very solid feel and very little chatter. Removing and sharpening the high speed steel cutters was quick and simple. The laser was spot on, and after 12-14 hours of use, the original batteries were still going strong.
I've only been turning for a little over a year, and I'm fairly new to hollowing. I've only used hand-held tools and a captive ring system, so I thought I'd get a second opinion of the MM. I invited Scott Landon and Jim Benson to come over and put the MM through its paces. Scott and Jim are both machinists with a gazillion years of experience between them, and they've both been turning for years. Scott came to my shop on a Thursday, and hollowed a small vase he brought with him. Jim came the following day, and hollowed a larger pear vase that I had started. Jim tried out all of the cutters and scrapers, as well as the undercutting tip. Both were very impressed with the mini-monster hollowing system. They commented that the tool was very well made, and did the job as designed. They both expressed an interest in acquiring the tool.
All in all, I've got nothing but good things to say about the MM. I was slightly disappointed that it couldn't be used on smaller projects. I was in the process of making Christmas ornaments and needed to work through a small hole. With the tips included with the MM, a 3/4 hole is about the minimum, and that was too large for what I was doing. Since the mini-monster is designed for a mini-lathe, I think a great improvement would be to add small straight and swan-neck tips for mini-hollowing work. Also, a larger scraper (round or guitar-pick shaped) would be a good addition. Both of these additions are readily available from other sources. Oh yes, there was one other BIG disappointment with the mini-monster.. Charlie called, and I had to give it back.
The Mini-monster is high up on my wishlist and by the way guys, my birthday is in May.
Well, here's some of what I did with the Mini-monster. All hollowed to about 1/4 inch wall thickness.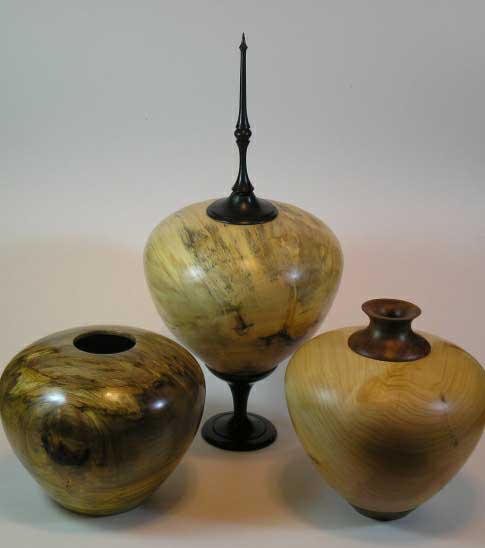 For more information - or If you have a larger lathe, also check out the Monster Hollowing System - the big brother to the MM.